Rage Against The Machine (often shortcutted RATM) is an American rap metal band.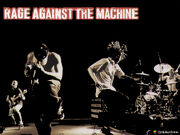 In 1991, guitarist Tom Morello left his band, Lock Up, looking to start another band. He was in a club in LA where Zack de la Rocha was freestyle rapping. Morello was impressed, people said, by de la Rocha's lyric books, and asked him to be a rapper in a band. Morello drafted drummer Brad Wilk of Greta, who had previously auditioned for Lock Up, while de la Rocha convinced his childhood friend Tim Commerford to join as bassist. The newly christened Rage Against the Machine named themselves after a song de la Rocha had written for his former popular underground hardcore punk band, Inside Out (also to be the title of the unrecorded Inside Out full-length album).[1] Kent McClard, with whom Inside Out were associated, had coined a 1989 article in his zine No Answers.[2]
Shortly after forming, they gave their first public performance in Orange County, California, where a friend of Commerford's was holding a house party. The blueprint for the group's major-label debut album, demo tape Rage Against the Machine, was laid on a twelve-song self-released cassette, the cover image of which was the stock market with a triple match taped to the inlay card. Not all 12 songs made it onto the final album—two were eventually included as B-sides, with the remaining three songs never seeing an official release.[3] Several record labels expressed interest, and the band eventually signed with Epic Records. Morello said, "Epic agreed to everything we asked—and they've followed through.... We never saw a[n] [ideological] conflict as long as we maintained creative control."[4]
Cite error: <ref> tags exist, but no <references/> tag was found
Community content is available under
CC-BY-SA
unless otherwise noted.